MSD6A358AXG advertising machine solution
Intelligent advertising machine is based on Internet application technology, with an open operating system and chip, and an open application platform, which can realize two-way human-computer interaction functions and integrate multiple functions such as audio, video, entertainment, and data to meet user diversification. And personalized TV products. It has the following characteristics: (1) It has strong hardware equipment, including a high-speed processor and a certain storage space, which is used to run and store application programs; (2) It is equipped with an intelligent operating system, and users can install, run, and uninstall software by themselves , Games and other applications; (3) can be connected to the public Internet; (4) has multiple interactive applications, such as new human-computer interaction, multi-screen interaction, content sharing, etc.
MSTAR single chip MSD6A358AXG is a highly integrated, powerful, and cost-effective Android advertising player chip.
The composition of the chip system solution: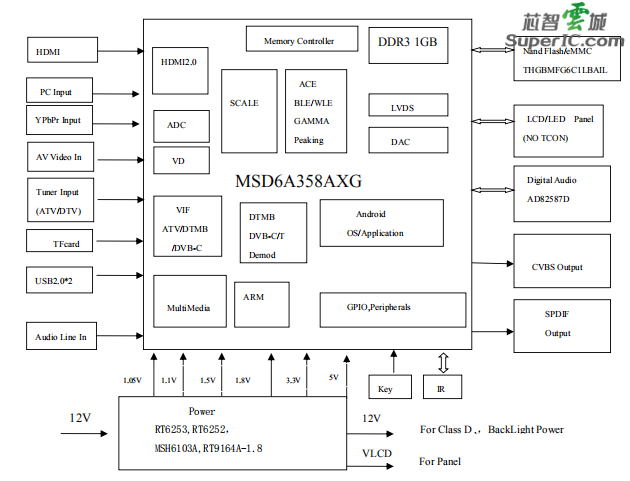 Chip port composition: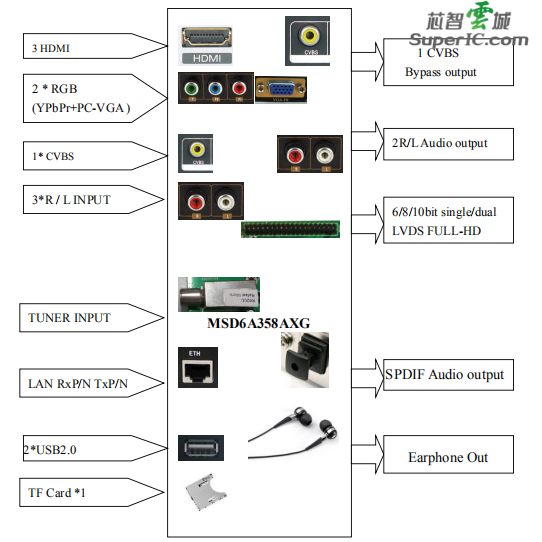 Function description:
1. Input port: CVBS, YPBPR, VGA, HDMI 2.0, USB2.0, RJ45, SD card, WIFI, etc .;
2. Support a variety of audio and video multimedia demodulation and playback functions; standard 2X8W Class D amplifier; can output standard definition, high definition and LVDS signals;
3. MSD6A358AXG DDR configuration 1GB (DDR3) (built-in), Android 6.0 / 8.0, A35 quad-core CPU Mali400MP2 GPU.
4. HDMI2.0, ARC, USB2.0, H.265, Miracast2.0
Core advantages: high integration, simple peripheral circuits, high cost performance
Application areas:TV, advertising machine ...
The supporting SoC, storage, power chip, module and other agent materials are available. It is necessary to contact our sales first. The following materials are available for reference:
The table is for reference only, the actual item is the standard.
No

NAME

TYPE

BRAND

1

CPU

MSD6A358AXG

MTK

2

DC-DC

MSH6103A

MTK

3

DC-DC

RT6253AHGJ6F

RT6252AHGJ6F

Silergy

4

EMMC

THGBMFG6C1LBAIL

Toshiba

5

AMPLIFIER

AD82587D

ESMT

6

LDO

RT9164A-18-GG

Richtek
Technical support:
SMC-DTDS can provide circuit diagrams, PCB reference board diagrams, SDK as well as a full range of technical services.
For further details, please contact us.


Sales@smc-dtds.com

91-9880080140

Smart-core
DTDS
SuperIC
©2020 SMART-CORE DTDS LIMITED ALL Rights Reserved