SSC325x series cost-effective IPC solution
Network camera (referred to as IPC), which is composed of a network encoding module and an analog camera. It combines a new generation of cameras produced by traditional cameras and network technologies. It can encode and compress the analog video signals collected by analog cameras into digital signals. The captured images are transmitted to every corner of the world through the network, and remote viewers can monitor their images with a standard web browser. Network cameras usually have a built-in SoC chip and an embedded real-time operating system.
According to Xinmou research and forecast, the shipment of CIS in the global security field will reach about 230 million in 2019, and it is expected to reach 305 million in 2022. The overall market size is huge, and the average annual shipment growth rate will reach about 12%. With the trend of security monitoring networked and intelligentized, the proportion of IP cameras using IPC SoC chips is increasing year by year, which is the future development direction.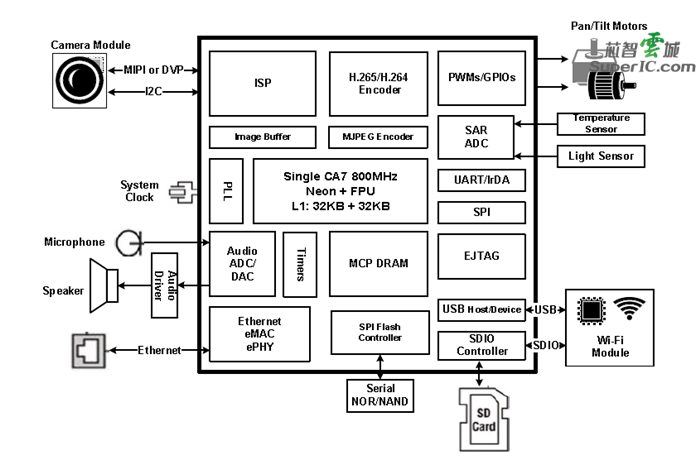 The SSC325 series of IPC SoC chips launched by Sigmstar can be used to create a cost-effective, highly integrated security monitoring solution, which has been shipped in large quantities. The SoC chip built-in 800MHz ARM Cortex A7, built-in high-performance ISP, H.265 / H.264 / MJPEG video encoder, built-in 10 / 100M Ethernet MAC and PHY, also integrated CMOS sensor / Ethernet (or WiFi) / storage (Flash or TF card) interface, the video stream compressed by the processor can be stored on the SD card, or can be transmitted to the cloud through the network for storage and analysis. The platform can also support simple face recognition and human shape detection algorithms and functions.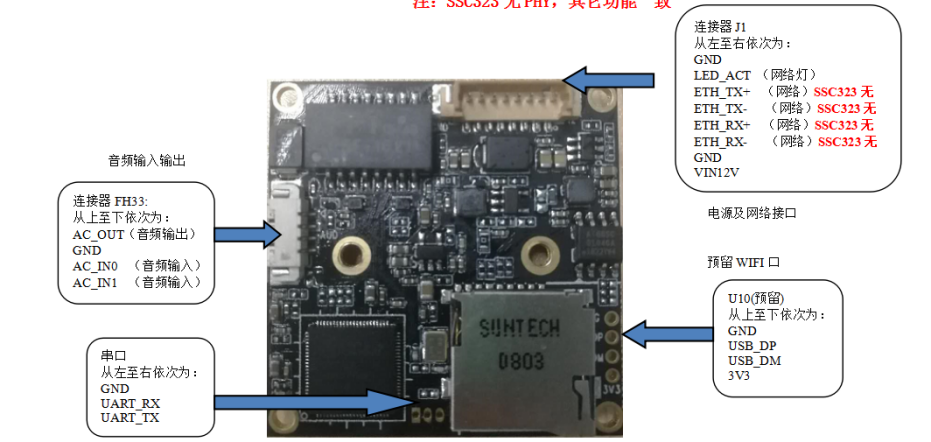 SSC325 series SoC chips are divided into: basic SSC325 (built-in 64MB DDR2, QFN88 9 * 9), enhanced SSC325DE (built-in 128MB DDR3, QFN128 12.3 * 12.3), the overall function will be stronger. The technical parameters of the scheme are as follows:
* CMOS Sensor supports up to 3M (resolution 2304x1296 or 2048x1536)
* Support MIPI or DVP interface
* Support 3A (AWB white balance, AE auto exposure, AF auto focus)
* Support WDR / HDR
* Support Lens shading compensation (lens shading compensation)
* Support Noise Reduction (image noise reduction)
* H.265 Encoder: Max 3M @ 30fps
* H.264 Encoder: Max 3M @ 30fps
* JPEG Encoder: Max 3Mp / 30fps
* Dual ADC: Microphone input, Lineout
* OS: Linux
The supporting SoC, storage, power chip, module and other agent materials are available. It is necessary to contact our sales first. The following materials are available for reference:
NO

NAME

TYPE

BRAND

1

CPU

SSC325

Sigmastar

2

CPU

SSC325DE

Sigmastar

3

Wifi module

SSW101B

Sigmastar

4

Nor Flash

ZB25VQ128ASIGT

ZBIT

5

LDO

RT9078-12GJ5

Richtek

6

DC-DC

RT7294CGJ6F

Richtek

7

DC-DC

RT8096CHGJ5

Richtek

8

Motor driver

BA6208L

UTC

9

CMOS sensor

PS5260

Prime sensor

SC2231

Smart sense
Technical support:
SMC-DTDS can provide circuit diagrams, PCB reference board diagrams, SDK as well as a full range of technical services.
For further details, please contact us.


Sales@smc-dtds.com

91-9880080140

Smart-core
DTDS
SuperIC
©2020 SMART-CORE DTDS LIMITED ALL Rights Reserved